Luxury cars exude prestige and sophistication. However, these high-end vehicles also require a distinct type of insurance coverage, known as luxury auto insurance. Luxury auto insurance is a specialized type of coverage designed to meet the needs of luxury vehicle owners.
Luxury auto insurance typically offers enhanced coverage and personal service opportunities that are not available with standard policy options. This includes access to repair centers specializing in luxury and exotic cars and limited-time repair guarantees.
What Is Luxury Car Insurance?
Luxury car insurance is a specific auto insurance policy that covers luxury vehicles with high repair and replacement costs. These policies are tailored to protect high-value assets and offer more comprehensive coverage than classic car insurance policies. It often includes higher limits and more options for specialized coverages.
What Type of Coverage Do You Need for a Luxury Car?
The coverage needed for a luxury car tends to be more extensive than for a standard vehicle. Here are some types of coverage you might consider:
Liability Insurance
This covers costs associated with bodily injury and property damage to others if you're at fault in an accident. Given the potentially higher costs associated with luxury cars, it's wise to consider a higher liability limit than you might for a standard vehicle.
Collision Coverage and Comprehensive Insurance
If your vehicle collides with another vehicle or object, collision insurance will cover the damages to your vehicle. Comprehensive insurance protects against non-collision-related theft, vandalism, or natural disasters. Luxury cars often have high repair costs, making this coverage vital.
Personal Injury Protection
Also known as PIP, this insurance covers medical expenses and sometimes lost wages for you and your passengers, regardless of who's at fault in an accident.
Gap and New Car Replacement Coverage
If your luxury car is financed or leased, gap coverage could be valuable. It covers the difference between what you owe on your vehicle and its depreciated value if it's totaled. On the other hand, new car replacement coverage will replace your car with a brand-new model if it's totaled.
How Much Does Luxury Car Insurance Cost?
Full coverage insurance for high-end and high-performance vehicles tends to be quite pricey, averaging around $397 monthly or $4,761 annually. This represents a 63% increase compared to the insurance costs of a standard economy car.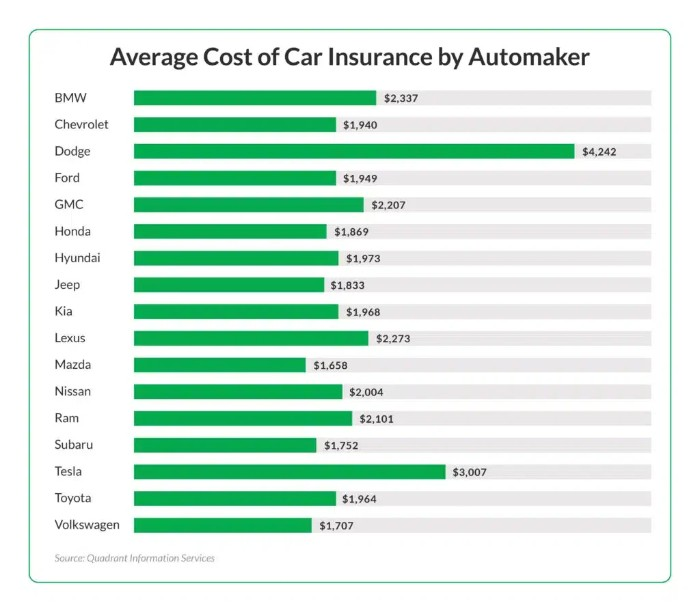 Image Courtesy: marketwatch.com
A fundamental principle to remember is that as the car's price tag rises, so does the cost of insuring it. This correlation is because the best car insurance companies factor in the potential expenses of repairing or replacing the vehicle when determining the premium.
For instance, to insure a Cadillac CT4 valued at $34,890, you can expect to pay an average monthly premium of $360. On the other hand, a Porsche 718 Boxster, with a value of $63,950, comes with an average monthly insurance cost of $434.
How to Get the Cheapest Luxury Car Insurance Rates
If you own a luxury car, you know the importance of having comprehensive coverage to protect your high-end investment. However, the cost of luxury car insurance can sometimes cause concern. To get cheaper rates, here are some tips to consider:
Compare the Best Luxury Auto Insurance Rates
Just like shopping for your luxury car, you should also shop around for your car insurance. Different car insurance companies have varying rates, so getting quotes from multiple sources is essential. Compare each policy's coverage, deductibles, and premiums to find the best one that suits your needs.
Consider Bundling Your Policies
Bundling your insurance policies can lead to significant savings. Many insurance providers offer discounts if you purchase multiple policies, such as home, auto, and life insurance, from them. This can reduce your overall insurance costs and also simplify policy management, as you'll be dealing with a single insurance company.
Look for Discounts
Most insurance companies offer discounts that can help lower your premiums. These may include safe driver discounts, loyalty discounts, and low mileage discounts. Always ask your luxury car insurance company about the potential discounts available to you. You might be surprised at how much you could save.
Use a Comparison Tool
An online car insurance comparison tool efficiently compares rates from various insurers simultaneously. These tools can provide quotes from multiple companies based on your specific needs and circumstances. They can save you time and ensure you get the best possible rates.
Raise Your Deductible
A higher deductible can significantly lower your insurance premium. The deductible is the amount you pay out of pocket before your insurance coverage kicks in. However, remember that if you need to file a claim, you must cover the higher deductible amount. So, it's a good idea to ensure you have funds to cover this cost if needed.
Consider Pay-As-You-Drive Coverage
A pay-as-you-drive insurance policy could be an excellent option if you don't use your luxury car frequently. These policies base your premium on the number of miles you drive. The less you drive, the less you pay. It's a great way to save money if your luxury car is not your primary vehicle.
Opt for Vehicle Storage in the Off-Season
If you only drive your luxury car in specific seasons, consider opting for vehicle storage insurance in the off-season. This insurance covers your car while in storage and is usually less expensive than full coverage. Inform your insurer about your car storage plans to use this cost-saving option.
Final Words
Luxury car insurance is an essential consideration when you own a high-end vehicle. While it may cost more than standard auto insurance, it offers the protection required to safeguard your investment in case of accidents, theft, or damage. Therefore, choosing the right type and amount of coverage is crucial. Remember, it's about securing the cheapest rate and ensuring your coverage meets your needs.
Furthermore, take your time and do thorough research when looking for exotic car insurance. Use all the tools available to get the best rates, including comparison tools and discounts. Remember, luxury cars are a significant investment, and choosing the right insurance can help protect that investment while providing you peace of mind.
By being proactive, you can balance protecting your luxurious ride and keeping your premiums affordable. Luxury auto insurance, while more costly than its standard counterpart, is necessary for owning these prestigious vehicles. So, ensure your coverage is comprehensive and suitable for your specific needs. The road is yours to enjoy, so drive confidently, knowing you have the right insurance coverage for your luxury vehicle.