As we cast our eyes toward the next three decades, the horizon is ominously tinted with an escalating economic burden linked to flooding in commercial buildings. Alarmingly, this burden will weigh heaviest across the Gulf and the Eastern Coast of the contiguous United States. Louisiana, for instance, is bracing itself as it faces a nearly threefold surge in flood-related economic damage between 2022 and 2052.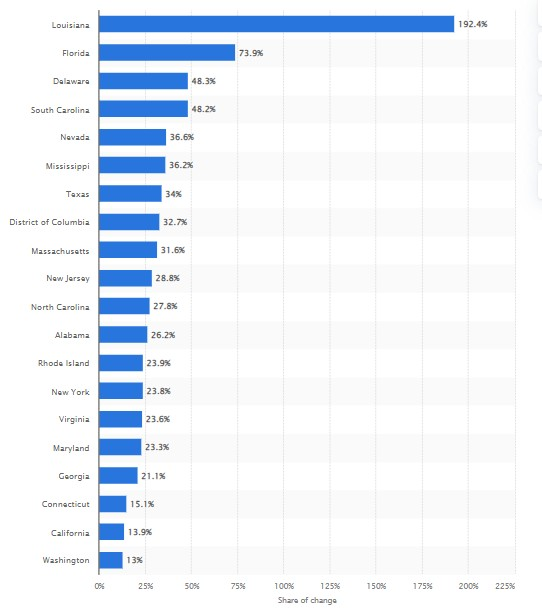 Image Courtesy: Statista.com
This concerning trend isn't limited to the coastline, though. Across the US, the economic fallout from commercial building floods is projected to rise by nearly 30 percent in the same 30-year window. This stark reality underscores the urgent need for proactive adaptation and resilience measures in our fight against the growing risk. That is where reliable insurance providers offer coastal home insurance.
What is Coastal Home Insurance?
Coastal home insurance, or high-risk property insurance, is a specialized form of coverage tailored to meet the unique needs of coastal homeowners. These properties face specific risks such as hurricanes, flooding, and coastal erosion, thus requiring more comprehensive coverage compared to typical homeowner's insurance.
Who Needs Coastal Insurance?
Homeowners with property along or near the coastline should consider investing in coastal home insurance. This is particularly critical for properties in high-risk zones, prone to storms, flooding, and sea-level rises. Even if your home isn't a beachfront property, you may still require this coverage if it's within a specified distance of the shoreline.
Standard Coastal Home Insurance
The components of a standard coastal home insurance policy generally include the following:
Hazard Insurance
This covers physical damage to your property caused by incidents such as fires, hurricanes, and other perils. It usually includes the main structure of the home, as well as attached structures like garages.
Flood Insurance
Given the proximity to water, flood insurance is a crucial part of coastal home insurance. It covers damages resulting from rising water levels or storm surges. Coastal homes in cities like Naples and Fort Lauderdale may experience flooding from heavy rainfall during tropical storms, hurricanes, and storm surges. While this coverage can be costly, it is necessary.
House Contents
This portion of the policy covers the contents of your home – everything from furniture to appliances, personal belongings, and more, against risks like theft, fire, and certain types of water damage.
Outbuildings
Sheds, detached garages, gazebos, and other structures not attached to the main dwelling are covered under this section. Coverage can include damage from perils listed in your policy.
Coverage Under Coastal Home Insurance Cover
Besides the primary coverage areas outlined above, some coastal home insurance policies also cover debris removal, temporary living expenses if your home becomes uninhabitable due to a covered peril, and liability coverage in case someone is injured on your property.
Areas Not Covered by Coastal Home Insurance Cover
Flood coverage isn't typically included in coastal home insurance, and whether windstorm protection is provided might depend on your specific plan. Therefore, it may be necessary to supplement your coverage with additional policies for comprehensive protection.
Flood insurance can be acquired through the government-supported National Flood Insurance Program (NFIP) or a private insurer. If your property is situated by the seaside, your options could be restricted based on the insurers' willingness to offer a policy.
The availability of windstorm coverage for coastal dwellings differs from one state to another. Private windstorm insurance can be purchased, or it may be necessary to acquire it through a state-run agency. Similar to procuring flood insurance from the NFIP, you can liaise with your current insurance provider to incorporate this coverage.
Take Texas as an example: Standard homeowners insurance doesn't typically extend to wind and hail damage for properties along the Texas coastline or in Harris County on Galveston Bay. For these homeowners to secure coverage, they must obtain a policy from the Texas Windstorm Insurance Association.
Cost of Coastal Home Insurance
Unlike standard home insurance, coastal home insurance usually features numerous deductibles, each of a distinct sum. These sums typically represent a certain percentage of your dwelling coverage limit, ranging between 1% and 10%.
Suppose your policy stipulates a 5% deductible for damages from hurricanes or designated storms. If the insured value of your home is $100,000, any hurricane damage will necessitate you to bear an out-of-pocket expense of $5,000.
Pros and Cons of Coastal Home Insurance
Pros
Simplified Insurance Process: Unlike additional coverage options, coastal home insurance provides all-encompassing protection within a single policy, streamlining the process and avoiding the complexity of managing multiple insurance policies.
Tailor-Made Coverage: Coastal home insurance is specifically designed with coastal homes in mind, providing homeowners peace of mind knowing their largest asset is adequately covered against the unique risks it faces.
Cons
Increased Cost: Homes located in coastal regions are generally more susceptible to damage, and this higher risk is reflected in the premium rates for coastal home insurance, which tend to be more expensive.
Potential for Additional Policies: Coastal home insurance, similar to other forms of homeowners insurance, may not provide full coverage for all possible risks. Natural calamities such as floods and earthquakes are typically not covered, necessitating the purchase of supplementary insurance coverage for comprehensive protection.
Final Words
Coastal home insurance is essential for anyone residing near the coast. The investment in such insurance might be substantial, but the cost of going without it could be far more detrimental. As with all insurance decisions, it's important to work with a trusted advisor, understand your risk, and carefully review all policy details to ensure you have the right protection.
With the right coverage and a reliable insurance company, you can rest easy knowing that your home is adequately protected against coastal perils. Good luck!