In an increasingly mobile and adventure-driven world, the recreational vehicle (RV) industry is experiencing a boom like never before. The global RV market is set to rocket from a valuation of $55.90 billion in 2021 to an astonishing $87.89 billion by 2028, marking an impressive compound annual growth rate (CAGR) of 6.7% during the forecast period of 2021-2028. This anticipated growth not only underscores the rising popularity of RVs but also showcases the changing lifestyles and preferences of modern consumers as they lean towards more flexible and experiential living and traveling options.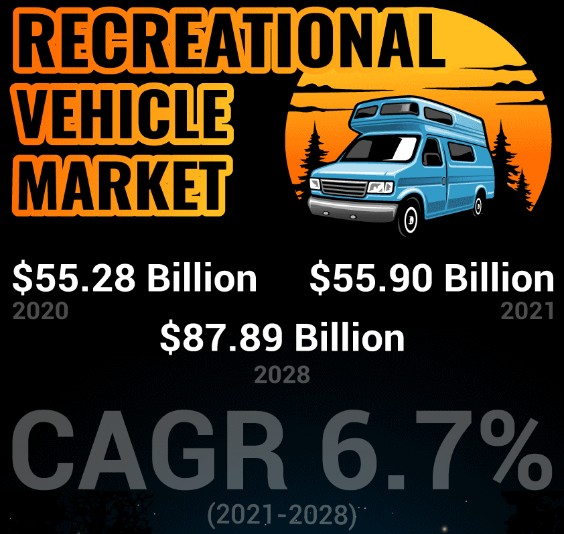 Image Courtesy: fortunebusinessinsights.com
Recreational vehicle (RV) insurance is an essential expense for any RV owner, helping to protect your investment and giving you peace of mind on the road. As with any insurance, costs vary widely based on many factors. This comprehensive guide delves into the many elements that determine RV insurance costs, the types of coverage available, and frequently asked questions surrounding this topic.
RV Insurance Cost Factors
RV insurance is essential to enjoying your recreational vehicle safely and responsibly. The average RV policy costs around $120 to $140 per month in premiums, depending on the type and size of your RV. This cost may vary significantly based on several factors.
Type of RV
Your RV's make, model and year are crucial determinants of your insurance premiums. Typically, larger and more luxurious RVs come with higher insurance costs due to their higher value and the cost of potential repairs or replacements. On the other hand, smaller, less expensive models tend to have lower insurance premiums.
Driving History
Your personal driving record also plays a significant role in determining your RV insurance cost. Insurers view drivers with clean records as less risky, leading to lower premiums. Conversely, a history of traffic violations or accidents can cause your premiums to increase due to the perceived heightened risk of future incidents.
Usage
Another major factor affecting your insurance costs is how often and how far you travel in your RV. If you use your RV full-time, expect to pay more for insurance because of the increased risk exposure. Conversely, if you only use your RV occasionally for short trips, your insurance costs will likely be lower.
Driving Experience
Your experience with driving an RV also matters. Insurance companies may offer lower premiums to those with several years of RV driving experience. In contrast, if you're a new RV driver, you may face higher premiums as you're considered a higher risk.
Credit Score
In many states, insurers can consider your credit score when setting your premiums. A higher credit score indicates to insurers that you are financially responsible, potentially lowering your insurance costs.
Deductible
The deductible is the amount you pay before your RV insurance policy coverage kicks in if a claim is filed. Choosing a higher deductible can lower your premium while opting for a lower deductible can result in a higher premium.
Location
Your geographical location can influence your RV insurance costs. Factors like local weather patterns, crime rates, and the frequency of natural disasters can impact premiums. For example, states with high risks of hurricanes or floods might have higher insurance costs due to the increased risk of damage.
Reimbursement Model
RV insurance policies offer different reimbursement models: agreed-value or actual cash value. An agreed-value policy covers the RV's value without factoring in depreciation and generally comes with higher premiums. An actual cash value policy, on the other hand, considers depreciation and thus may have lower premiums.
Coverage
Lastly, the extent and type of coverage you choose will directly impact your RV insurance cost. More comprehensive plans covering a wide range of incidents will cost more than basic liability coverage plans.
Types of RV Insurance
Owning a recreational vehicle (RV) is synonymous with freedom and adventure, offering a unique blend of comfort and mobility for your travels. However, with the joy of owning an RV comes the responsibility of proper insurance coverage. Understanding the various types of RV insurance can help you make an informed decision, ensuring your home-on-wheels gets the protection it deserves.
Standard RV Coverage
Standard RV insurance is the baseline of coverage and, often, the minimum legally required. It typically includes the following components:
Liability Coverage: This covers the costs if you're at fault in an accident that causes bodily injury or property damage to others.
Comprehensive Coverage: This pays for damage to your RV caused by incidents other than collisions, such as fire, theft, vandalism, or certain weather-related events.
Collision Coverage: This coverage pays for damages to your RV in the event of an accident, regardless of who is at fault.
Optional RV Coverage
For many RV owners, standard coverage might not provide sufficient protection. That's where optional coverage comes in. Here are a few types of optional RV coverage that offer additional protection:
Total Loss Replacement: If your new RV is totaled within its first few years, this coverage can pay for a brand-new replacement.
Personal Effects Coverage: This protects your personal belongings inside the RV. While homeowner's insurance might cover some personal items, the limits might not be sufficient for more valuable items.
Vacation Liability: Also known as "campsite" liability, this coverage protects you if someone gets hurt in or around your RV while you're using it for vacation.
Roadside Assistance: This can cover the costs of common roadside troubles like flat tires, battery jumps, or towing to the nearest repair facility.
RV Insurance Discounts
Insurance costs can add up, but several discounts can help make RV insurance more affordable. Here are some standard RV insurance discounts:
Multi-Policy Discount: If you purchase multiple policies from the same company (like auto, home, and RV), you could get a discount.
Safe Driver Discount: Maintaining a clean driving record can earn you a discount on your insurance premium.
Claim-Free Discount: Insurance companies may offer a discount if you haven't filed any claims in a certain period.
Paid-in-Full Discount: If you pay your premium in full upfront instead of monthly, you may be eligible for a discount.
Cost of RV Insurance: Final Words
RV insurance cost varies widely depending on several factors, ranging from the type of RV to your personal driving history. While it's essential to consider these costs, ensuring you have adequate coverage to protect your investment is equally important.
As an RV owner, it's important to understand the various coverage and discounts available to choose an insurance plan for you. With the right coverage, you can rest easy knowing your RV is properly protected.
RV Insurance Cost: FAQ
What does RV insurance typically cost?
On average, RV insurance can range from around $200 to $3,000 per year, depending on the abovementioned factors.
What kind of insurance do you need on an RV?
At a minimum, you need liability insurance to legally operate your RV. However, full collision and comprehensive insurance coverage are highly recommended, especially for more expensive RVs or those who live in their RV full-time. Optional coverages can also provide additional protection.
Is RV insurance cheaper than regular insurance?
The cost of RV insurance versus regular auto insurance depends on many factors, including the type of RV, its use, and your chosen coverage. However, due to the potential for higher replacement costs, RV insurance can sometimes be more expensive than auto insurance.
What is RV depreciation?
The RV Depreciation Method calculates the Remaining Value of an asset based on its Remaining Life. If an asset's depreciation method is RV, the calculation will derive the asset's Net Book Value from the Beginning Date to its Remaining Life.
Which states have the cheapest RV insurance?
RV insurance costs vary by state, but some of the cheapest states for RV insurance coverage include Ohio, New Hampshire, and Maine. Although it's not a guarantee that these states have the lowest RV insurance rates on average, you can expect your camper's coverage cost to be relatively affordable in these locations.